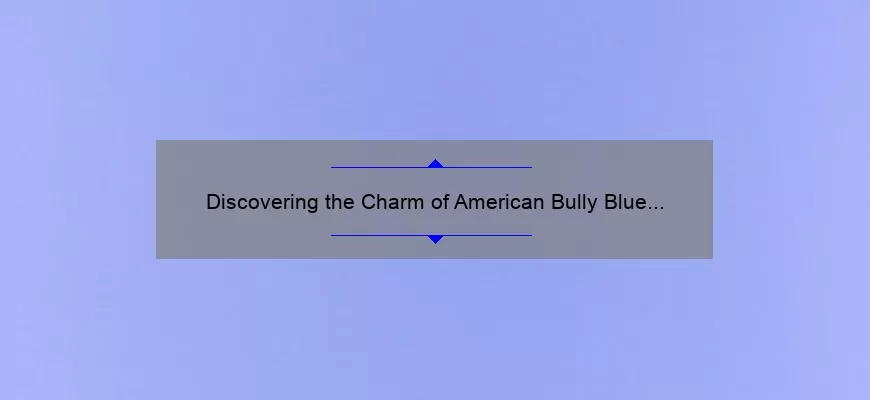 Top 5 Facts You Need to Know About American Bully Blue Nose Pitbull Puppies

As a dog lover, you might have heard of the American Bully Blue Nose Pitbull puppies – the breed known for its fun-loving nature, muscular build, and striking blue nose. But there's more to these delightful creatures than meets the eye. In this blog, we'll dive into the top five facts you need to know about them.
1. They Come from a Family of Strong and Resilient Dogs
The American Bully Blue Nose Pitbulls are descendants of the old English bulldogs bred for bull-baiting in England during the 19th century. These bulldogs were later taken to America for use in various activities such as hunting wild animals like bears and bison or controlling farm animals like cattle.
The breeding process in America subtly modified their traits from aggressive working dogs into calmer yet beaming family pets. Today's American Bullies are still robust with muscular bodies that keep them agile and active throughout their lifetime.
2. They're Not Really Aggressive
Unfortunately, there is often an unfortunate stigma attached to these dogs based purely on their physical appearance that may lead people to believe they are naturally aggressive breeds prone to biting and other aggression-related incidents.
However, while every dog has its unique personality traits, they are known for being typically socialized quickly and effectively with other pets and humans thanks to their amiable character.
Hence it would help if you worked with a reputable breeder who will provide you information on how best to train your puppy so that they grow up well-behaved and sociable.
3. They Require Consistent Training
Blue Nose puppies don't come trained already. On owning one, training becomes your responsibility; otherwise, you risk having an untrained furry family member that misbehaves at home or around outsiders.
The good news is that due to their intelligent nature coupled with eagerness-to-please demeanors; these pups take quickly learn under proper positive reinforcement training.
You may want to take them for obedience classes, offer daily commands training, and consistent socialization with other pets and people during their development stage.
4. They Have a High Energy Level
American Bully Blue Nose Pitbull puppies are also known for their active personalities, making them unsuitable if you are looking to adopt a low-energy dog to fit into your recluse lifestyle.
These pups need substantial daily exercise like a good run or brisk walks outside to keep their muscles toned and energy levels under control. Failure to meet this exercise need may lead to pent-up frustration that can manifest in destructive behavior such as biting or chewing on furniture around the house, garments among other things they get hold of.
5. They Can Live Up To 15 Years
Yes! You read that right; these tail-wagging fluffballs can live up to 15 years if adequately taken care of through timely health checkups from time-to-time by qualified veterinarians.
Giving them proper nutrition, enough hydration through clean drinking water supply while staying updated on dog vaccinations coupled with adequate daily physical exercises are all pointers that'll contribute towards ensuring your puppy remains healthy throughout its lifetime.
In conclusion, while American Bully Blue Nose Pitbull puppies require an extra level of attention as compared to the most docile breeds out there, which comes with daunting responsibility; they're still excellent loyal family companions worth caring for given patience and consistency through positive reinforcement training methods.
Frequently Asked Questions About American Bully Blue Nose Pitbull Puppies Answered

If you're looking for a loyal, loving and protective companion, then an American Bully Blue Nose Pitbull puppy may be the perfect addition to your family. However, before bringing a new pet home, it's important to learn as much as possible about the breed to ensure that you can provide them with the best possible care.
In this blog post, we'll answer some of the most frequently asked questions about American Bully Blue Nose Pitbull puppies so that you can feel confident and informed when making your decision.
1. What is an American Bully Blue Nose Pitbull?
The American Bully is a relatively new breed that was developed in the 1990s as a companion dog. It combines elements of the American Staffordshire Terrier, English Bulldog and Staffordshire Bull Terrier breeds. The Blue Nose variation refers to their coloring – they have a blue-grey coat with a distinctive blue nose.
2. Are they good family pets?
Yes! Despite their tough exterior, American Bully Blue Nose Pitbulls are known for their affectionate nature towards their owners and are often considered "nanny dogs" due to their love for children. They thrive when given lots of attention and socialization from an early age.
3. How big do they get?
American Bully Blue Nose Pitbulls typically weigh between 70-120 pounds and stand at around 18-21 inches tall at the shoulder. However, each dog is unique and can vary in size based on genetics and diet.
4. What kind of exercise do they need?
These dogs require regular exercise to maintain both physical health and mental stimulation. Daily walks or runs along with playtime in the backyard will help keep them happy and healthy.
5. Are American Bully Blue Nose Pitbulls aggressive?
Like any dog breed, behavior depends on upbringing; however, many people believe these dogs are naturally aggressive or dangerous because of media portrayal from past decades. If raised and trained with love, kindness, and positive reinforcement techniques from an early age, they are just like any other breed – loving, loyal and obedient.
6. Are they easy to train?
Yes! This breed is known for its desire to please its owner and eagerness to learn new things. Basic obedience training should start at an early age so that the puppy knows what behaviors are expected of them and can be socialized properly.
7. What kind of health issues do they face?
Like all dog breeds, American Bully Blue Nose Pitbulls are susceptible to certain health issues such as hip dysplasia, allergies and skin infections. It's critical to have regular vet appointments for checkups.
In conclusion: American Bully Blue Nose Pitbull puppies make wonderful family pets if provided proper care and training with discipline while being loved unconditionally by their owners; it's important not to believe or compare these dogs with stereotypes or past experiences, as every animal is unique in personality based on upbringing. Just like humans, each dog has his/her own distinct quirks that add character and uniqueness – so don't hesitate in bringing a Blue Nose Pit Bull into your life today!
Training Your American Bully Blue Nose Pitbull Puppy: Tips and Tricks

Training your American Bully Blue Nose Pitbull Puppy is crucial in making sure that they grow up to be well-bred, obedient and well-rounded dogs. These pups come with a big personality, a strong will, and lots of energy. So, it is important to start early and establish yourself as the alpha in their life.
Training your Bully Blue Nose Pitbull requires patience, consistency and dedication. You'll need to set aside time every day for training sessions, which should last about 10-15 minutes each time. Starting with basic commands like sit, stay, come and lay down is important so that you can build upon these skills as they grow older.
One of the most effective ways of train an American Bully Blue Nose Pitbull Puppy is through reward-based training methods. These are based on positive reinforcement for good behavior rather than punishment or scolding the puppy for bad behavior. Positive reinforcement training involves giving your pup treats or praise when they complete a command or do something you want them to do.
Another key aspect of training these puppies is socialization. It's essential to expose your pitbull pup to different kinds of people, animals and environments as much as possible while they are young so that they learn how to behave appropriately in different situations.
Exercise plays an important role in training your Bully Blue Nose Pitbull Puppy too. These dogs are naturally energetic and require plenty of physical activity each day to help them burn off excess energy and maintain good health.
Finally, being consistent with the rules you set for your American Bully Blue Nose Pitbull Puppy will help them understand what behaviour is expected from them throughout their lives .
In conclusion , Training Your American Bully Blue Nose Pitbull Puppy: Tips And Tricks requires patience , consistency and dedication . Reward-based positive reinforcement , socialization , exercise ,and setting rules consistently would lead to well-behaved puppies who will remain loyal companions throughout their lifetime .
The Health and Wellbeing of Your American Bully Blue Nose Pitbull Puppy

As a responsible pet owner, you have probably made countless sacrifices to ensure that your American Bully Blue Nose Pitbull puppy is healthy and happy. The good news is that the hard work has paid off – your furry companion is energetic, playful, and always eager to learn new things!
But with great joy comes great responsibility; taking care of your pitbull's health and wellbeing requires a deep understanding of their unique needs.
To start with, you must prioritize their exercise routine. Pitbull puppies are highly active creatures who require consistent physical activity to remain healthy. You can incorporate walking, hiking or playing in a park to keep them moving while also giving them space for socializing.
You can also develop an exercise regime with toys such as throwing objects or play tug rope with others in mind. This not only will help the dog build physically but it also helps him/her utilize his/her primal instincts full throttle.
A proper diet is another key component of maintaining your pitbull's health. These pups need to eat well-balanced meals that provide them all necessary vitamins and minerals such as lean protein, carbohydrates (rice or vegetables) which include vitamins C & D among others plus fats like Omega-3 fatty acid found in fish oil which can be either mixed into food or by adding small amounts directly on top.
It is crucial that you do not overfeed your dog, since this may lead to obesity-related diseases later in life. Obesity can put pressure on joints when jumping around or playing sports which could lead them to gaining injuries easily – including strains and other complications such as an increase in blood sugar levels dramatically increasing chances for developing diabetes.
Apart from regular exercise regimes and a balanced diet plan, pitbull puppies thrive when they receive love n'care from the family members as well! They are very vocal animals who love attention- so try cuddling up close and sharing sweet moments accompanied by plenty verbal encouragements for behavior rewards.
In summary, investing your time, energy and resources into caring for your pitbull pup's welfare is an excellent way to ensure you have a loyal and loving companion by your side for years to come. Stay attentive and committed to providing consistent care as the breed requires special attention- but know that making room in your lifestyle for Pit Bull Terrier will certainly fill every moment with excitement and joy!
Raising an American Bully Blue Nose Pitbull Puppy with Other Pets and Children

Raising a Blue Nose Pitbull puppy can be both exciting and challenging. It requires time, commitment, patience, and resources to give your puppy the care and socialization it needs to grow into a healthy and well-behaved adult dog. But what if you already have other pets and children in your household? How can you raise an American Bully while ensuring the safety and harmony of everyone involved?
Firstly, let's address the misconception that Pitbulls are inherently aggressive or dangerous dogs. This is not true. Like all dogs, Pitbulls can become aggressive if they are neglected, mistreated, or poorly socialized. However, with proper training and socialization from an early age, a Blue Nose Pitbull puppy can grow up to be a loving, loyal family pet.
If you have other pets in your home such as cats or small dogs, it's important to introduce them to your new Pitbull puppy slowly and safely. Start by keeping them separated by a baby gate or closed door for several days so that they can get used to each other's scents without direct contact.
During this time, you should also supervise all interactions between your puppy and other pets closely. Make sure that the introductions take place in a calm environment with plenty of positive reinforcement – treats and praise – for good behavior.
Similarly, if you have young children in your household it is crucial to train them on how to interact with a new puppy safely. Teach them not to pull their tails or ears or hurt them in any way. Install gates around areas where dangerous objects may be kept.
One of the keys to raising a Blue Nose Pitbull is socializing them early on with people of all ages including strangers.
Expose them to different sounds like traffic honking horns so they don't react aggressively when out walking together through busy streets .
It's also important for puppies within large households with other animals/children,to know which toys they are allowed to play with and which ones that belong to other animals need to be kept away from.
Consistency is also key during training. The rules amounting to human interactions should stay the same for everyone in the household. This ensures confusion isnt caused for dogs making them much more leary of what their next action might bring.
In conclusion, raising a Blue Nose Pitbull puppy with other pets and children requires careful planning and patience. By following these tips, you can help ensure that your new furry family member grows up happy, healthy, and well-behaved. Don't forget about socialization opportunities such as dog parks or obedience classes as part of your dog's development plan!
Navigating the Process of Purchasing a Healthy and Happy American Bully Blue Nose Pitbull Puppy
When it comes to purchasing a puppy, there are many things to consider. From breed and size, to temperament and training needs, the process of selecting the perfect pup can be overwhelming for even the most dedicated dog lover.
If you're considering an American Bully Blue Nose Pitbull, there are a few key things to keep in mind. These dogs are known for their loyal personalities and intelligent nature, but they also require a significant amount of attention and care.
So what steps should you take when navigating the process of purchasing a healthy and happy American Bully Blue Nose Pitbull puppy? Here are some tips:
1. Do Your Research: Before bringing home any new pet, it's important to conduct thorough research on the breed. Learn about their history, standard characteristics, temperament traits, and any potential health concerns that may plague this particular breed.
2. Find a Reputable Breeder: Once you've decided that an American Bully Blue Nose Pitbull is right for you, it's time to find a reputable breeder. Do your due diligence when vetting potential breeders- ask plenty of questions regarding their experience with transferring puppies into new homes if they offer warranties or guarantees on their breeding lines.
3. Visit Potential Litters: In-person visits are essential when evaluating potential litters – this will help you accurately gauge temperaments first-hand as well as ensure adequate living conditions for any offspring at risk.
4. Puppy Proof Your Home: Preparing your home so that it is safe and free from hazards is crucial before introducing your furry friend into your space by removing anything toxic (i.e., cleaning supplies) or items laying around which could cause harm (i.e., cords). Keep in mind planting landscapes outside where he'll play outdoor activities could be problematic as certain plants could cause poisonous effects on him
5. Plan Ahead & Be Patient – While finding the perfect pup might take time patience in selection is key so take extra time and look for someone who is willing to work with you to make the perfect match.
Incorporating an American Bully Blue Nose Pitbull into your family, if properly researched and cared for, may result in a lifelong, joyful bond. By taking the steps to ensure both the well-being of your potential pet and your ability to meet their needs post-adoption will evolve over a lifetime of shared love and companionship which adds value in terms of happiness levels.