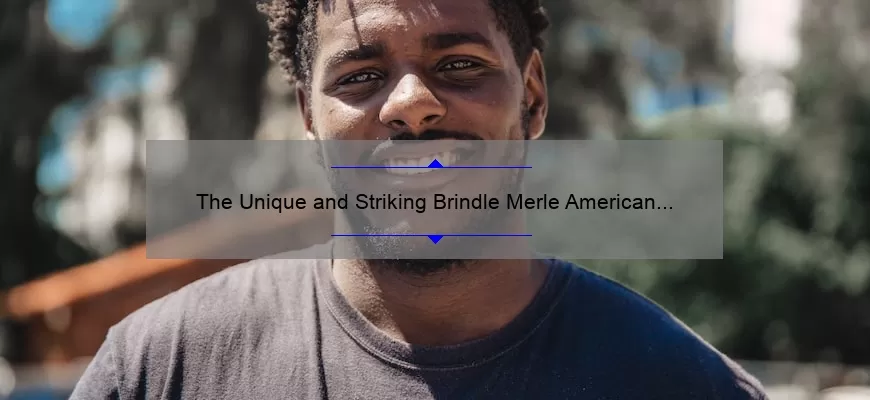 How to Identify a Brindle Merle American Bully: A Step-by-Step Guide

Are you a fan of American Bullies, specifically the brindle merle variety? If so, you might know how stunning their coats can be. But identifying a brindle merle American Bully can be tricky. In this step-by-step guide, we'll show you what to look for when identifying one.
Firstly, let's define what brindle and merle mean. Brindle refers to the streaks, sometimes even stripes that can appear on a dog's coat that is lighter or darker than the base color of their fur. Merle refers to a pattern caused by a genetic trait where parts of the dog's coat have diluted colors, with irregular shapes and splotches of pigment mixed in.
One crucial aspect to note when trying to determine if an American Bully is brindle merle is its base coat color. This breed varies in available colors—a clue in pinpointing which ones are brindle merles because they will possess at least two different coat colors: tan or fawn as their solid base hue combined with other coloring like white or blue.
Next up comes identifying distinct marks on their coat patterns unique to brindle dogs. Brindled American Bullies often exhibit non-symmetrical bands of various tones blending together that form as swirls on their fur resembling marble cake designs – this should help distinguish them from other breeds that may have simplistic zigzag-like lines instead.
The last aspect is crucial – it's where the defining characteristics of being Merle come into play prominently! To spot these traits, take a closer look at your pup's eyes and nose – typically speaking; they will feature light blue or greenish-blue irises offset against a light blue nose—an easy way to spot if your American Bully pup possesses such features that are true indicators of being Merle-brinded!
Despite all this information presented above, it's important always to remember each dog possesses its unique DNA sequences molded from its ancestors. The perfect blend of genetic material can sometimes result in unexpected variations and patterns, making it a bit challenging to determine whether your pup fits into the category or not. Therefore, when searching for brindle merle dogs, always ensure you are buying from ethical breeders who can verify such breed lineage – that is a guarantee of getting what you want.
We hope this quick guide helps you identify the beautiful brindle Merle American bully with ease! In conclusion – keep looking out for these unique traits and feed us back if you find anything new or different that could enrich our knowledge about breeds as we work to grow together. Happy exploring!
The FAQs About Brindle Merle American Bully You Need to Know

As an American Bully enthusiast, you may have come across a unique and intriguing coat color that caught your attention – the Brindle Merle American Bully. This particular coat color is a combination of two distinctive patterns – brindling and merling, creating a remarkable coat that leaves dog lovers in awe. In this blog post, we will take a closer look at this fascinating canine breed and answer some frequently asked questions.
What is a Brindle Merle American Bully?
The Brindle Merle American Bully is one of the many variations of the American Bully breed. It is characterized by its distinct coat color patterns, which are produced when two different genes are present in one dog. The first gene produces brindle coats while the second gene creates a merle pattern. When these two genes combine, they produce stunning hues of gray or blue with dramatic swirls of black or brown that give the pooch an almost marble-like effect.
Are Brindle Merle American Bullies rare?
Yes, they are relatively rare compared to other variations of the breed because their unique coloring requires both brindling and merling genes to be present in one dog. Breeders must carefully select parents with these traits to ensure successful breeding.
Are there any health concerns associated with Brindle Merle American Bullies?
While this isn't necessarily exclusive to the Brindle Merle variation, all breeds can suffer from various health issues such as hip dysplasia or breathing problems common for Bullies due to their stout build. However, responsible breeding practices help mitigate these risks.
Can I show my Brindle Merle American Bulldog in competitions?
Currently, only standard coat colors are recognized by organizations responsible for purebred competitions such as AKC (American Kennel Club) or UKC (United Kennel Club). But keep eyes peeled as it's possible that could change regarding admittance into competitions once more grow accustomed to seeing them.
Is training a Brindle Merle American Bully challenging?
No more than any other variation of the breed. As long as you provide appropriate exercise and socialization, an American Bully loves to please their humans and so training should be executed with a firm yet gentle hand.
What is the life expectancy for Brindle Merle American Bullies?
Like most dogs, their lifespan varies between 10-13 years on average.
In conclusion, the Brindle Merle American Bully is an exquisite canine that's not only pleasing to the eye but also exceptional in personality. Provided with proper care, nutrition and training they can thrive just like any other pet. It's worth noting their color pattern may fascinate many dog lovers, so enjoy answering curious inquiries from those you meet.
Interesting Facts You Didn't Know About the Brindle Merle American Bully

Are you a fan of American Bullies? Then, it's high time you get to know the Brindle Merle American Bully, one of the most fascinating canine breeds around. Known for their unique coat patterns and striking physical features, these pooches have been capturing hearts all over the world lately.
Here are some interesting facts that you might not know about the Brindle Merle American Bully:
1. They Are A Rare Breed
Compared to other types of American Bullies, the Brindle Merle is considered to be a rare breed. These dogs are relatively hard to find in many parts of the world, and their impressive appearance only adds to their appeal. Their common coat color is brindle mixed with a merle pattern on top.
2. They Take After Their Ancestors
True to their name, these dogs have intense physical features similar to their ancestors – Pit Bulls, Staffordshire Terriers, and Bulldogs! However, they were bred specifically for companion purposes as opposed to blood sports or dog fighting.
3. They Excels at Agility Training
Believe it or not but this muscular breed can do more than just sit and lay down; they're also incredibly flexible and agile! Thanks to their admirable intelligence and agility level, Brindle Merle Bullies excel at various instrumental training such as obedience training or tracking activities- making them excellent show dogs!
4. Temperament-wise: They're Lovable Creatures
These loyal pups are known for being loving towards both children and adults alike; they adore being social creatures forged on human interaction hence excelling as family pets.This loyalty ensures that each member feels secure during stressful times- contributing invaluable help during periods of intense change such as new jobs or moves.
5. They Hate Being Alone
However long your day is whether spent working from home or trying your best in creating human interactions.The Brindle Merle appreciates companionship no matter what wait you speak to them: each bark, whimper or wag centers on forming a connection with its owners.
6. They're Low-Maintenance Dogs
Brindle Merle bulldogs don't require a whole lot of exercise, due to their high adaptability rate and mild temperament, hence can live in either urban or rural settings(suitable for city life) with moderate activity. A couple of walks daily alongside frequent interactivity alleviate anxiety associated with loneliness and support your dogs' physical wellbeing.
In light of this enjoyable read about the Brindle Merle American Bully breed, it's only right we take note of these amazing creatures as gifts from mother nature living amongst us. Long may their fervor for life continue!
From Genetics to Temperament: Understanding the Characteristics of a Brindle Merle American Bully

The Brindle Merle American Bully is a unique and fascinating breed that has been gaining in popularity in recent years. This mix of both the brindle and merle genes creates a beautiful coat pattern that is characterized by flecks of different colors which give an almost marble-like appearance to their fur.
Aside from their striking looks, these dogs are also known for their friendly temperament, making them an excellent choice for families with children or individuals who have a lot of love to give.
To understand the characteristics of this breed fully, it's essential first to explore the impact of genetics on their behavior and personality traits.
The Genetics behind Brindle Merle American Bullies:
The coloration of Brindle Merle American Bullies is determined by two specific genes: the K locus (which controls brindling) and the M locus (which determines whether they will be merle or not).
When both genes are present in a dog's genetic code, it results in a striking coat with patterns created by variations and shades of various colors.
However, while these coloration genes may be responsible for how your puppy turns out aesthetically, they do not determine personality traits such as friendliness or aggressiveness. The latter traits are influenced more by other non-color related genetic factors such as environment and proper training.
Temperament:
Brindle Merle American Bullies are naturally affectionate animals who enjoy being around people as well as fellow pets. They tend to show great loyalty towards their owners and make excellent guard dogs due to their natural alertness.
With proper training and socialization during early development stages (puppyhood), these dogs can develop into gentle giants who possess admirable qualities like patience, obedience, kindness, confidence among others.
While every dog possesses its unique temperament depending on things like environment, owner training methods amongst many others influencing factors; some characteristics come innate because it runs in certain breeds.
Conclusion:
In conclusion, Brindle Merle American Bullies are a unique and sought-after breed for many reasons, not least of which is their striking coat patterns.
However, it's essential to remember that despite the mesmerizing colors brought about by genetics, every dog has its personality and character. Knowing how to train and socialize them well from an early age will help shape their behavior and activities as they grow up into an excellent addition to your home.
So if you're considering adopting one of these pups, make sure you're willing to put in the time and effort needed to give them everything they need for a happy life. It's worth it!
The Top 5 Reasons Why a Brindle Merle American Bully Makes the Perfect Family Pet

As any pet lover will tell you, finding the perfect addition to your family can be a daunting and overwhelming task. With so many different breeds, colors, and traits to choose from, how can anyone ever decide which one is right for them?
If you're searching for an affectionate and loyal four-legged companion to add to your household, look no further than the Brindle Merle American Bully. This incredible breed has become increasingly popular in recent years due to its unique coat pattern and impressive personality.
Let's delve deeper into the top five reasons why a Brindle Merle American Bully makes the perfect family pet:
1. They are undeniably stunning
One of the most striking features of this breed is their coat coloring – a combination of brindle stripes with a merle pattern overlay. The result is nothing short of breathtaking, with each dog possessing its own unique and eye-catching markings.
But it's not just their physical appearance that makes them stand out – Brindle Merle American Bullies have a confident and regal presence that commands attention wherever they go.
2. They LOVE people
The primary characteristic that sets this breed apart from others is their unwavering loyalty and love for their human family members. They thrive on attention and companionship, making them ideal pets for families with children or individuals who live alone.
Brindle Merle American Bullies are also incredibly intelligent, so training them is relatively easy – as long as you establish yourself as the alpha early on!
3. They're great with kids
Speaking of children, one of the best things about Brindle Merle American Bullies is their gentle nature around kids. While each dog has its own individual temperament, these guys tend to be patient and tolerant when it comes to loud noises or rough playtime.
This makes them an excellent choice if you have young children in your household who have been begging for a furry friend to call their own.
4. They're adaptable
Whether you live in a small apartment or a spacious backyard, the Brindle Merle American Bully can adapt to various living conditions. Although they love plenty of room to run around and play, they don't require vast amounts of outdoor space to be happy.
As long as you provide them with ample exercise and socialization opportunities, these dogs will be content no matter where they call home.
5. They're low-maintenance
Finally, Brindle Merle American Bullies are quite low-maintenance when it comes to grooming requirements. Their short coat doesn't require regular trimming or clipping – simply brush them once a week to keep their fur shiny and healthy.
They also tend to have fewer health concerns than other breeds thanks to their robust genetic makeup, making vet visits less stressful and expensive overall.
All in all, the Brindle Merle American Bully is an excellent pet choice for families who want a loyal and loving companion that's visually stunning and easygoing. So why not consider adding one of these incredible pups to your household today? Your new furry friend is sure to bring laughter, joy, and endless cuddles into your life!
Training and Socializing Your Brindle Merle American Bully – Essential Tips and Techniques
As an owner of a Brindle Merle American Bully, you're probably well aware that your pet has an extraordinary temperament and personality. Your dog is likely to be loving, loyal, and protective of his or her family. To ensure that your pet remains happy and healthy in the long run, it is essential to train and socialize them from an early age.
Training your Brindle Merle American Bully is an essential part of being a responsible pet owner. The training should begin when your dog is still a puppy so that they learn basic obedience commands such as "sit," "stay," "come," and "heel." It's crucial not to rely on punishment-based training methods because it can lead to negative emotions like fear and aggression.
Instead, opt for positive reinforcement techniques where you reward good behavior with treats or praise. Over time, positive reinforcement helps create a bond between you and your pet based on trust, cooperation, mutual respect, and love.
Socializing your Brindle Merle American Bully is also vital. Socialization means exposing your pet to different people, places, animals. It helps them develop good behavior around strangers or other dogs while reducing anxiety around unfamiliar sights, sounds or smells common in public areas.
Unsocialized dogs rapidly develop behavioral issues such as excessive barking or biting when they feel threatened by new surroundings or other pets. Therefore it's important for puppies to experience a range of experiences so they become comfortable with new situations before becoming adverse to them.
Here are some critical tips for socializing your Brindle Merle American Bully:
1) Start Early: Socializing should begin in earnest once two weeks after their first set of vaccinations.
2) Positive Experiences: Ensure all experiences associated with meeting new people or animals have positive outcomes; treats are always an excellent motivator!
3) Reinforce Calmness: If they tend towards over-excitement try practicing waiting at doorways and other things that reinforce patience & self-control.
4) Consistency: Practice should be a weekly breeding consistency. This might mean taking your dog to different places or meeting new people or animals with some regularity.
5) Give Them Space: Allow your dog to make decisions about when they want to meet new people, dogs or inanimate objects. Generally leaning towards keeping them a few feet away until they begin showing curiosity and interest rather than cowering away or aggressively barking is the best move here.
Final Thoughts:
Training and socializing your Brindle Merle American Bully require patience, commitment, and time from you as their owner. Begin by teaching basic obedience commands before gradually exposing them to various scenarios where they learn how to behave appropriately around other dogs, humans, and even cats – positive reinforcement is crucial in both endeavors!
By following these tips, you will end up with an incredibly loyal companion who will make for an excellent addition to any family. Remember never give up regardless of how challenging it can get; boredom comes far before the intended desired results while persistence lands on Gold!