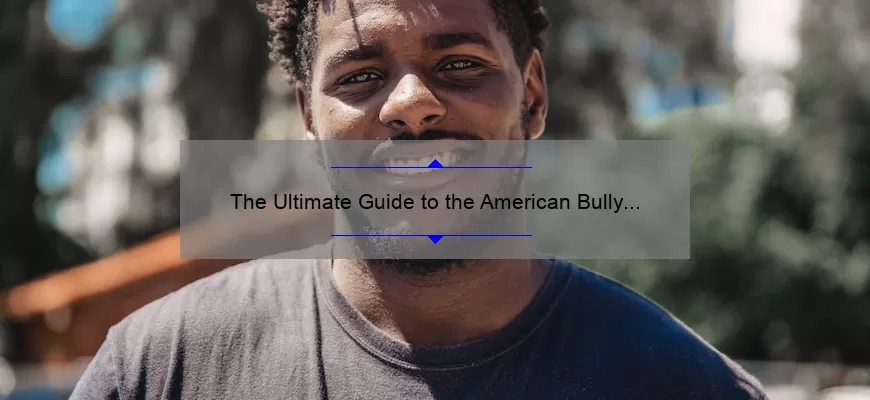 Step-by-Step Guide: How to Attend an American Bully Convention
If you're a fan of the American Bully breed, attending an American Bully convention can be an enlightening experience. Not only do you get to meet likeminded enthusiasts and breeders, but you also have the opportunity to witness top-of-the-line bully specimens in action. But how do you go about attending one of these conventions? In this step-by-step guide, we'll cover everything you need to know to have a great time at an American Bully convention. Step 1: Find the Right Event The first thing you need to do when planning your attendance at an American Bully convention is finding the right event. Do some research online and ask for recommendations from fellow enthusiasts or breeders. You want to find an event that has a good reputation and draws quality exhibitors and spectators alike. Step 2: Register in Advance Most events will offer early bird registration with discounts on tickets or entry fees, which can save you cash if you plan ahead. Additionally, registering beforehand helps organizers know how many people will be attending so they can prepare accordingly. Step 3: Prepare for Travel Whether it's driving or flying, make sure your travel plans are in order well ahead of time. Book accommodations close by if possible; some events even offer discounted rates at partner hotels. Step 4: Brush Up on Show Standards Familiarizing yourself with show standards before arriving can help enhance your experience at the event as well as give you
understanding when discussing breeds
with other show-goers. Step 5: Dress Appropriately Showing off your Bully apparel may seem tempting - but being comfortable is key! Comfortable shoes are crucial for all-day walking, as well as dressing comfortably in general (e.g., breathable clothing during hot summer days). Step 6: Respect Show Rules Bully conventions have strict rules governing exhibitor behavior - make sure to familiarize yourself with them before arrival! Step 7: Bring Cash or Card As some vendors may not accept cards, bring cash or card in case needed. You'll find anything from merchandise to snacks, so having available resources can be super helpful. Step 8: Network, Learn and Have Fun At the convention itself, take your time to network with fellow attendees and breeders since you're all there for the same reason - a love of American Bullies! Take note of any valuable tidbits you gain insight on throughout the day, whether it be important bully
breeding strategies or something fun like dog
outfit ideas for next year's event! Overall, attending an American Bully convention can be particularly educational while still allowing one to have a great time. Follow these steps above to ensure that you have a fun and successful experience at conventions!
FAQs About the American Bully Convention You Need to Know
The American Bully Convention is a highly anticipated event that brings together enthusiasts of the breed from all over the world. If you're planning on attending this event for the first time, it can be overwhelming to know what to expect. Here, we've compiled some frequently asked questions that will help you get prepared for the convention. Q: What is the American Bully Convention? A: The American Bully Convention is an annual gathering of breeders, owners, and enthusiasts of American Bullies. It's a chance to meet like-minded individuals who share a passion for this
unique bully breed
. Q: When and Where will it take place? A: Every year location and date might change. It usually takes place in America during summer. Keep updated with their official social media account or website. Q: Do I need to own an American Bully to attend? A: Whilst owning an American Bully isn't mandatory for attendance, it'd be more enjoyable if you have one or interested in learning more about them Q: Can I bring my dog along to the convention? A: Absolutely! Dogs are welcome at the convention as long as they're well-behaved and on a leash at all times. Q: Are there any accommodations available near the venue? A: Yes, most conventions provide accommodation options such as hotels nearby where events are taking place. Q: What activities should we anticipate during the convention? A: There are always plenty of
fun activities
happening throughout the weekend including shows, competitions, games and seminars related specifically to American Bullies. Q; What should I wear to attend this event? A; This depends on how involved you are but if you're starting it's best tp go casual and comfortable but ensure your attire indicates your support for dogs maybe wear minimalist accessories like pendants or earrings
designed with Bulldogs as they add more style
and creatsed awareness too! In conclusion, attending an American Bully Convention can be an exciting and rewarding experience that will allow you to connect with other breed enthusiasts as well as
gain a better understanding
of this unique bully breed. By keeping these FAQs in mind, you'll be fully prepared to make the most out of your convention experience.
The Best Moments from the Last American Bully Convention You Don't Want To Miss
The last American Bully Convention was nothing short of amazing! The convention brought together the best breeders, owners and lovers of American Bullies from all over the world. It was a spectacle to behold and full of moments that will forever be etched in the memories of those who attended. One of the most remarkable moments during the convention was the showcase of some spectacular American Bullies. From their impressive size to their killer physique, it was clear these dogs were being bred for top-notch performance. These sleek bullys strutted around like royalty while obediently responding to their owner's cues and captivating everyone's attention. Another unforgettable moment worth mentioning was when some of these majestic beasts showed off their signature move – the "bite." Although many might not expect it, these animals are highly
trained and can perform
specific routines they have been taught. This included jumping through hoops or vaulting over bars! Other highlights included captivating guest speaker sessions led by experts in
canine health
and behavior. These talks provided insights into how to maintain good hygiene
practices as well as preventative measures against common
diseases such as obesity, joint dysplasia, and dental problems. Additionally, attendees had the chance to participate in obedience classes with world-class trainers who have worked with high-performing breeds like Belgian Malinois and German Shepherds. These classes focused on
dog agility training
where participants learned basic commands like sit-stay-stand, recall-and-hide command which were crucial in fostering obedience among pets. Finally, we cannot forget about how much attention this show has received since its inception; indeed social media played an integral role in promoting it during its run up – generating hype that only served to amplify its buzz factor! With videos shared across various outlets ranging from Instagram stories & Reels, Facebook videos coupled with Tweets on Twitter - this one event truly broke internet norms with each content piece garnering more traction than anticipated! In conclusion, The Last American Bully Convention proved to be yet another successful celebration of the brawniest and the bravest canines in the animal kingdom. It's a must-see for any dog lover and especially for individuals looking to buy,
train or breed
American Bullies in their home country. From showcasing awesome
pit bulls
displays to informative guest speaker sessions that taught attendees how best to care for their pets, this convention had it all! So, mark your calendars now and brace yourselves for more extraordinary moments at the next edition. You wouldn't want to miss out on anything!
Top 5 Surprising Facts about the American Bully Convention
The American Bully Convention is an exclusive gathering of dog lovers and breeders who come together to celebrate and showcase the best of their beloved breed, the American bully. The convention offers a unique opportunity for attendees to learn more about this amazing canine, its history, temperament,
training techniques,
and breeding practices. While most people would
expect the convention to be all about dogs
and their handlers, there are a few surprising facts that people may not know about. Here are the top five
surprising facts
about the American Bully Convention: 1. International Attendance Contrary to popular belief, the American Bully Convention is not just an event for Americans but it attracts international attendance from different countries around the world including China, Russia, Brazil and other nations where bully enthusiasts flock to meet with like-minded individuals. 2. High-Class Venue The location of the convention will surprise you; its annual grand event takes place in Las Vegas- one of America's premium vacation destination cities where visitors can flaunt globally recognized new-world glamour standards characterized by casinos, lounges suites,& upscale restaurants filled with some of America's most high-end entertainment. 3. Awards Galore The American Bully Convention is not just an entertaining event where spectators come only watch various contestants strut their stuff; it's also an awarding ceremony that recognizes outstanding achievements made by members across various categories such as breeder excellence awards &dog show awards. 4.Builds Strong Communities Dog Shows are usually seen as stylish affairs which do not bring out much community spirit among attendees however attending these
events acts as one way dog
lover community can unite,strenghthen networks & build lasting friendships 5.Unique Talent Exhibitions Attendees never fail in exhibiting unique talents during this prestigious event ,not only
dogs showcasing what they've been trained
on but also dog handlers/owners wowing crowds with skills such as performing complex stunts while holding onto leash strings or modifying truck beds into state-of-the-art American bully mobile homes. In conclusion, the American Bully Convention is indeed a remarkable event that highlights the incredible talent and dedication of the bulldog community. Whether you're a breeder, a handler, or just an admirer of these amazing animals, there's something for everyone at this exclusive celebration. Attendees can look forward to seeing some of the best
breeds of bulldogs
in appearance and judging contests ranging from field trials to obedience competitions. This event hosts fun activities for all members within the
dog niche including live
music performances, exhibitions displays allowing its attendees immerse themselves into an inclusive culture and entertainment-filled atmosphere.
The Future of American Bully Shows and Conventions: What to Expect
American Bully Shows and Conventions have become a popular event for dog enthusiasts as well as breeders. The American Bully
breed has gained immense popularity
in the past few years, thanks to its strong, muscular build and gentle demeanor. As we look towards the future of American Bully Shows and Conventions, there are a few things to expect. The first is an increase in the number of shows being organized across the country, with more emphasis being placed on promoting responsible breeding practices. Another aspect that can be expected at these events is the introduction of new competition formats that will keep the interest high among participants and spectators alike. For example, contests could include obedience trials, agility competitions or
weight pulling
competitions. In addition to this, it's also predicted that there will be an increase in regulations governing breeding practices across all breeds including the American Bully. Ensuring that only healthy dogs are registered for shows and bred from is becoming a priority for clubs and organizations with responsibility for maintaining
breed standards
. Moreover, digital technology is transforming almost every aspect of life
today - including dog
shows! It's likely that we'll see more hi-tech gadgets being integrated into these events such as wireless pet weighing scales, videos streaming online or mobile apps to track results. Finally, fashion trends are changing too! In recent years we've seen plenty of exciting new designs popping up in canine fashion – bow ties have been particularly popular! So maybe next time you take your best friend on vacation you'll find her wearing a floral headband co-ordinating with your tie-dye shirt! So there you have it. The future of American Bully Show looks bright; increasing
popularity coupled with greater regulations around breeding
practices ensure that these events remain an important part of our canine culture. And let's not forget about trendy accessories…after all what's cuter than matching outfits between
man and his best friend
? It's always paw-sible!
From Competitors to Spectators - Who Can Enjoy An American Bully Convention?
American Bully conventions have become increasingly popular across the United States, attracting a diverse array of attendees from all walks of life. Whether you are a breeder, owner, or simply an enthusiast of the breed, there is something for everyone at these exciting events. However, in recent years we have seen a shift in attendance at American Bully conventions. While it used to be primarily
breeders and owners
who attended, more and more spectators are turning up to witness this unique spectacle. So who can enjoy an American Bully convention? Firstly,
breeders and owners
will always be the primary audience at these events. The conventions offer them a rare opportunity to showcase their dogs and network with other professionals in the industry. For breeders, this is an ideal platform to promote their latest litters and build their reputation within the community. For owners of American Bullies, entering into competitions or simply showing off their dogs allows them to
connect with like-minded
individuals. But what if you're not directly involved in breeding or owning American Bullies? This is where being a spectator becomes a thrilling option! Anyone who loves animals or has an interest in different
dog breeds
can attend these conventions as well. It's an unparalleled opportunity to learn about the history and traits specific to American Bullies while admiring these
magnificent dogs
up close. Beyond its canine focus however, there are plenty of reasons why anyone should attend an American Bully convention - even if they're not quite sold on the idea just yet! For starters, attending one such event opens up social networking possibilities that extend beyond merely discussing America's favorite bullies! Makers frequently put together various seminars and speakers opposed to specialty topics ranging from animal care and husbandry to business practice regarding creating your dog-related company that beneficial for anyone looking forward towards learning how things work behind-the-scenes. Additionally, spending a day mingling amongst competitors could lead toward exposure such as seeing guests promoting anything from clothing companies to animal-related vendors, all potentially offering goods that may otherwise go undiscovered had one not attended the event at all. In conclusion, attending an American Bully convention is an incredible experience for people of all walks of life. From
breeders and owners
to casual enthusiasts and even onlookers, there's something for everyone to enjoy at these events. No matter your level of involvement or interest in this breed - rest assured that the thrill and excitement experienced in celebrating
man's best friend
is worth it enough!